The family business began in 1972, when grandpa Nicolas et grandma Antoinette took over the management of the hotel for a single year - that was the plan…
Many years later, in 1994, their son Laurent and wife Marianne took over the managment duties.
At that moment, the family Beaulieu also took over ownership and completely renovated the hotel.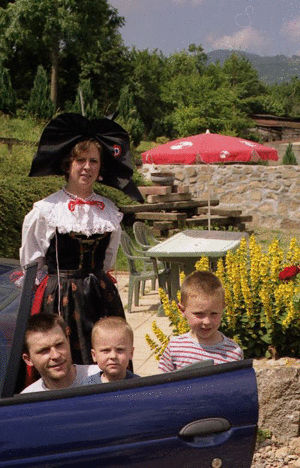 In addition to their principle interest to make your visit as enjoyable as possible, the Beaulieus enjoy their hobbys :
Laurent, member of the Historical Society and specialist in the extensive military history and archeology of the region.
Marianne, French-Italian, welcomes you among her orchids and rare plants, with a touch of flair bearing witness to her southern roots.
Grandpa (Papy), is a member of the club V8, owns a rare 1 Simca "Beaulieu 1959" and enjoyes mountain hiking and mountain photography.
Grandma (Mamy) enjoys painting, and you will see many of her works adorning the walls of the restaurant.